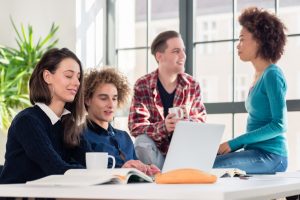 Young employees live in the present and are not always concerned about the future. They are a group that thinks they will not die or what will happen to their assets once they are gone. Drafting a will is the last thing on their bucket list, which is unfortunate.
They do not understand why they should draft a will because that is something older folks do. However, creating a will at a younger age is a brilliant idea and shows an appreciation of being aware of the benefits of having that document.
Assets such as life insurance policies, collectibles, and securities are purchased as young employees make money on the job. These things are left behind when a person dies and are essential to determine how an estate is distributed, no matter how small the holdings might be. Lack of a will means that the loved ones of beneficiaries are caught in a world of probate confusion. Nobody wants that.
The Benefits of a Simple Will
When young employees have a simple will drafted, they take responsibility for their future and protect their loved ones. Surviving children and spouses are provided for, and do not have to worry about maintaining an acceptable lifestyle. An executor is named to administer the estate, beneficiaries are designated, guardianships for small children can be created, and favorite charities receive needed donations. Best of all, the uncertainty and confusion created by not having a will are avoided. A person's wishes are respected and obeyed.
Drafting That Document
Creating a simple will is not easy; this is why group legal plans have drafted a will as one of their pre-paid legal services. All assets and debts must be accounted for, including retirement accounts, investments, and outstanding loans or mortgages. This whole accounting shows the value of the estate. Furthermore, accounting allows the individual to decide what each beneficiary will get. That creates peace of mind for beneficiaries and the individual. Countrywide Pre-Paid Legal Services offers drafting a simple will as one of our group legal plan benefit options. It is a valuable service.
The Countrywide Way
Our nationwide network of attorneys provides the assistance needed to produce a simple will. Incidentally, this document is no more than six pages long, which is sufficient for most people. The Countrywide attorney is more than just a practitioner of the law.
That person is a teacher and a guide. No one can expect a young employee to understand everything about an estate, and a Countrywide attorney explains the process. These legal professionals are recruited on their emotional intelligence, and a question from a young person is not considered stupid. We treat everyone with courtesy and respect, regardless of their age. Having a will is a smart idea, and our attorneys gladly assist.
There is a Countrywide attorney in the community for every client. Scheduling an appointment is simple. We have open and transparent communication with all our clients, and we ask the decision-makers of those organizations to help us design their group legal plan. We explain our pre-paid legal services benefit options and ask the executives to determine what benefits will be part of their group's legal plan. Those choices are part of the final document. We provide streamlined administration as one of our pre-paid legal services. Taking care of the individual member is priority number one with us.
A young employee who has a will drafted shows both maturity and responsibility. The document will protect loved ones from any confusion brought on by sudden death. We have other group legal plan benefits that will provide excellent service to all employees. If you are interested in what we do, we urge you to contact us at your earliest convenience. Our group legal plan makes life easier for all your hard-working associates.