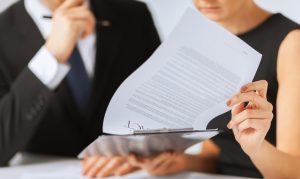 Legal documents mystify people. The language is not something they are familiar with, but the consequences of misinterpreting the words can be significant. Contracts, leases, and other written forms of agreement can carry clauses that will penalize somebody for noncompliance. The same is true for various government applications and requests for information.
Group legal plans offer a variety of services to people that cover ordinary situations. A review of legal documents is a benefit that employees will appreciate. Countrywide Pre-Paid Legal Services have legal documents reviewed as a benefit option for a Group Legal Plan. It is well worth being considered by employers.
It is a good idea to have documents reviewed before signing them. The individual should be aware of the responsibilities he or she must accept by signing any legal paper. Countrywide has a nationwide network of attorneys who provide pre-paid legal services. These legal professionals can quickly interpret a document and define its meaning.
Ordinary Services
We don't believe that pre-paid paid legal services should be delivered at a distance. A relationship between the plan member and attorney is best. Our attorneys practice law in the community of our client organizations and it is easy to get an appointment for a face-to-face conference. Countrywide Group Legal Plan members have priority status that permits them to get immediate attention.
The Document Review Process
Our attorneys will take a careful look at the documents submitted for review. They will point out the critical clauses and advise the Plan member on what the words say. Those lawyers will be looking for intent and consequences.
Accurate interpretation is not the only task for the Countrywide lawyer. The document's legitimacy is also examined. Some vendors will use papers that are out of date and, consequently, are not valid. Others will make use of out-of-state forms that are not legally valid. Major pitfalls are documents insisting on arbitration to resolve issues. Pressure might be placed on a person to sign the document and not take advantage of certain legal rights.
Our attorney will spot the dangers and they will tell a plan member if the papers are not enforceable. Plan members may still have questions after the meeting. We permit Plan members to make an unlimited number of telephone calls to a Countrywide attorney. It is a pre-paid legal services benefit that ends confusion.
Emotional Intelligence  and Effective Action
We will screen our attorneys carefully before working with them, and legal expertise alone is not what Countrywide wants. We expect a high level of empathy from our lawyers.
It isn't easy for some people to seek legal advice. They are nervous and intimidated by the language of a legal document. Plan members need not worry because a Countrywide lawyer will show respect and be courteous. No question is a silly one and all explanations are delivered with patience.
Countrywide attorneys can make telephone calls and write letters for the plan member. Sales associates push warranties without fully explaining what is covered. Communication from a lawyer on letterhead stationery can convince the salesperson to explain the coverage better.
Employers Play a Major Role
We have several group legal plan benefits, including drafting simple wills and helping with public agencies. We don't always know what a client's workforce needs. The decision-makers are asked to select the pre-paid legal services and benefits they want in their plan. The employees know what their employees need, and we design the program based on their input.
If you have an interest in our benefits, please feel free to contact us. We want to explain how our program will add value to your employee benefits program.