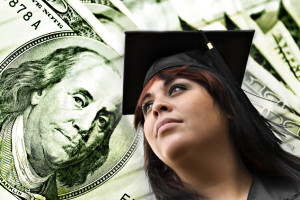 There is a Way to Deal with It
Commencement speakers will often urge new graduates to take some time and explore the world. It often sounds like a bad joke because so many of the recent diploma receivers are buried in college debt. It is not uncommon for a person to have more than $40,000 worth of debt hanging over his or her head. This means that many decisions such as buying a house have to be delayed indefinitely. It is a sad situation that often requires the services of a financial wellness program to make things better.
The Cost of Education Has Exploded
Career counselors will stress how important it is to have a college degree. They do not spend a lot of time talking about the cost. Many new employees come to work with a major stone on their backs. College loan payments take much of their expendable income and this adds considerable stress. It can seriously affect work performance. It is hard to stay focused on projects when you are worried about making a loan payment. Companies with a deep concern for their employees can well appreciate the need to assist their younger staff members. Countrywide Pre-Paid Legal Services wants to help those managers help their employees. It is a reason why we have introduced the Financial Wellness Program. It Includes student loan counseling.
Helping to Ease the Burden
The student loan counseling helps lighten the load of anxiety about this debt. Countrywide makes use of certified loan counselors in the Financial Wellness Program who advise on how to manage the obligation. Working with the plan member these financial professionals point out the various options available. It many times happens the person had no idea of the options which could be exercised. Too often there is a bit of embarrassment but the financial counselors do not lecture. In keeping with the Countrywide tradition of superior personal skills, these experts counsel plan members with courtesy and respect.
Those who are struggling to make college loan payments discover forbearance is not the only option they have. The tips provided give them a better view of possible ways to manage the loan obligations. This can have an immediate and highly positive effect on the staff morale. The employees are now able to concentrate more fully on work assignment and projects. The financial wellness support provided by their employers is sincerely appreciated.
Helping with Real Problems
The best way to keep top performers is providing benefits to resolve serious problems they confront. This can have a highly positive effect on those employees as they begin to understand their employer is truly wishing to be of help. The consequences of such needed financial wellness assistance are better retention rates and lower employee recruitment costs.
Countrywide has worked with all kinds of organizations since 1987 and knows they are different in needs. The Financial Wellness Program has a number of options from which to choose, and college debt counseling is only one of these. Another is assistance in coping with credit card debt. What we try to do is craft a plan which best suits what clients feel their employees need. Our administration is intended to make getting the benefits as quickly as possible. It is all in addition to the great customer service we provide. Past clients have always commented favorably on our ability to provide the very best in a timely fashion. We would like to be able to do the same for you and your employees. If you have any questions, do feel free to contact us. We welcome the chance to discuss with you all of the benefit options we have.