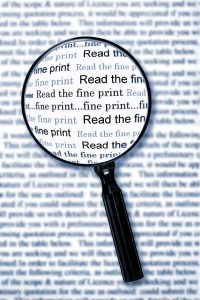 Legal documents make for tough reading. The sentence structures are intended to define what is required by law or what is expected of other parties; none of it is meant to entertain. It can be a headache trying to understand the simplest paragraphs. Not all group legal plans address this problem, but Countrywide Pre-Paid Legal Services does. One of our group legal plan options is the review of contracts and other legal documents.
Some of These Document Reviews Are Ordinary
Legal documents are not just for major occasions. Some of them are used in ordinary transactions and people don't always realize that. For example, the lease you sign for an apartment is a legal document. It has certain requirements and what the consequences are if the lease is not respected. Even though it is purchased as a product, a warranty is a legal document. A consumer must be careful when it comes to legal documents, because the terms are binding. It is always a good idea to have an attorney review one.
The Countrywide lawyers will do that as a pre-paid legal services benefit. We have a nationwide network of highly professional attorneys who will look at the legal documents a plan member wants to have reviewed. It is always a good idea to request this review prior to signing it and schedule an appointment with a Countrywide attorney. The lawyer checks the language and notes the obligation requirements for all parties involved. Experience with all types of contracts enables the Countrywide professional to point out various problems and warn of any written dangers.
It happens that the legal document may be unenforceable. This happens whenever a landlord uses a lease agreement that was created in another state. People think that it is legitimate, though it is not. This is where the Countrywide lawyer provides superior pre-paid legal services. They may note that the legal document itself is invalid and stop a person from signing it. It can also lead to a consumer protection complaint against the other party.
We Are Champions of Legal Paper
People imagine that legal assistance is full of courtroom dramas and it isn't true. Most legal support comes from assistance with all kinds of legal paper. Countrywide is proud of being able to help group legal plan members with all sorts of situations requiring knowledge of the law. Our lawyers can draft simple wills, medical powers of attorney, provide help with consumer protection and warranties, and other matters that require interpretation and implementation of the law. We believe that our clients can craft a superior benefit with any of our pre-paid legal services options.
There Is Choice
Clients are allowed to pick what options are going to be part of their group legal plan. It makes the benefit unique to the organization and its employees. Decision-makers may choose those benefits that directly address the needs of their workforce. Those options that are not relevant to internal demographics do not have to be part of the final plan document. What will always be a part of any Countrywide plan is superior customer service and responsive administration. No one must wait to get high quality assistance from Countrywide attorneys. Our plan members will always receive priority treatment from the attorneys and a quick response request for expert legal help. That is a commitment Countrywide makes with every client organization, no matter how big or how small that organization may be.
Legal language is not all Greek; most of it happens to be Latin. Whatever the phrases may be a Countrywide lawyer is able to interpret and explain what the document means. Clarity is one of the hallmarks of our benefits. If you have any questions about Countrywide and what it offers, please feel free to contact us at your earliest convenience. We would welcome the opportunity to answer all your questions.