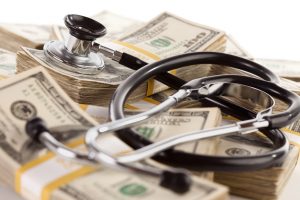 Medical premiums and expenses are rising, not falling. People are always looking for ways to curb expenses. We commend those employers who have proactive wellness plans. Benefits such as smoking cessation and weight control improve health and lower costs. We suggest that organizations go one step further and address financial wellness.
Sudden Emergencies Will Surface
Employees rarely budget for future medical costs. They assume the group health insurance plan will cover expenses. It doesn't happen that way. People will bear responsibility for treatments not covered by the plan and pay for the deductibles, as well. A sudden medical bill costing thousands of dollars is not out of the question.
People will panic at the price. They may consider taking out loans or a second mortgage to make the required payments. The stress and anxiety are considerable. Countrywide Pre-Paid Legal Services wants to relieve the pressure and help a person overcome the challenge. Our financial wellness plan provides welcome assistance to those in financial stress.
Our Professionals Save the Day
We have a nationwide network of certified counselors. They are professionals whose task is to solve fiscal problems. The counselors give financial wellness advice and guidance.
Yes, hospitals want their money, but they can be reasonable. A schedule of affordable payments can be created. Our counselors will do a budget analysis as a service. Expenses and income are examined and a means of paying medical bills is devised. The solution may require changes in spending habits, but these are rarely drastic.
Employers Can Appreciate Financial Wellness
Decision-makers know the burden of medical costs. Our benefit can be part of a comprehensive program to help employees respond to hospital bills. There are some other services we provide that employers will appreciate. Help with college loans, how to buy a house, and asset inventories are ways we assist people with financial wellness issues.
We have provided benefits to organizations for years and we know that we don't know everything about a client's employees. We let organizations decide what benefit options are going to be part of their financial wellness plan. We realize that some of our benefits are not going to be included in the final plan document. It does not matter to us. It is more important that the benefit can serve as many employees as possible. Whatever an employer wants to be in the plan will be part of the final document.
We Provide Good Service
Countrywide concentrates on serving the plan members. Our administration is deliberately streamlined so that people get what they need as soon as possible. We instruct our counselors to be as sympathetic and understanding as possible. Countrywide knows that no one wants a sermon preached to them about their finances. Our counselors offer solutions and do not judge anyone. Good personal skills are a prerequisite for being a part of our network. Those who do not have such qualities cannot work for Countrywide. It is our commitment to empathy and efficiency that makes Countrywide a leader in this industry.
The final medical bill can be a shock to the system, but it doesn't have to be the end of the world. There are ways to schedule payments that fit within the budget of any employee. We can help. What our counselors do relieves a lot of worry and concern. Plan members discover that their medical bills can be paid in a timely fashion without having to take out loans. They also get some very good advice on how to order their finances to meet expenses.
Health insurance companies furnish an Explanation of Benefits (EOB) to those filing claims. We would welcome the opportunity to explain our benefits to you. We know we can help your employees deal with the bills. Please feel free to contact us at your earliest convenience to find out more about Countrywide.