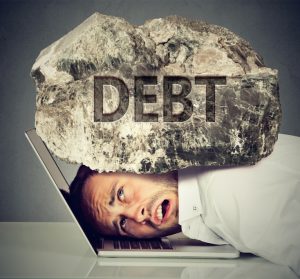 Many people struggle with personal debt. Credit cards, student loans, mortgages, and car loans deplete a paycheck, and many find they have little or nothing left at the end of the month. It can be difficult to manage debt, but it's important to remember there are some ways to help get you back on track. None of these are rocket science and these will make a positive difference.
Make a Budget
Assuming financial control of your life begins with a budget. Knowing where your money is going and how much you can allocate towards repaying debt is a crucial first step. If a person tracks spending for one month, they better understand their financial habits, discover where mistakes happen, and establish better financial wellness goals.
In addition, that budget provides financial information that reveals how much can be cut from regular expenses to meet debt obligations better.
Create a Personal Debt Repayment Plan
The information derived from creating a budget can be the basis for establishing a personal debt repayment plan. All the individual needs to do is list debts from the smallest to the largest. Paying off the smallest first while making regular payments on the other debts creates a system where expenses are met successfully.
A person benefits by having a repayment plan. It reduces stress and makes it easier to budget. Moreover, the repayment plan typically yields higher savings because of flexibility and pays off certain loans sooner. Financial wellness gradually improves using this method.
Reduce Unnecessary Expenses
People indulge in small luxuries such as subscriptions and routines that include buying items that are not necessary. Unused subscriptions can be ordinarily canceled at any time, and a person can do without those little treats that cost more than they are worth.
Set Small Goals
Financial wellness is achieved in small steps. For example, create targets and timetables instead of paying off all the debt. It permits you to track your progress and pat yourself on the back for small successes. The goals are achievable, and they are great motivators.
Seek Professional Help
Professional advice can go a long way to improving financial wellness. Employers can help by offering a benefit for people to deal with everyday economic problems. Countrywide Pre-Paid Legal Services has a benefit that employees can use and will appreciate.
Professional Advice Is Available
Our nationwide network of certified counselors assists people in managing their debts. The Countrywide professionals will help a plan member develop a budget and suggest improving their financial situation.
Sadly, some people are in severe debt and do not know what to do. We offer more focused services, such as help with bankruptcy, to assist these folks. It depends on what the prospective client would like to have.
Our services are benefit options for a comprehensive financial wellness plan. Countrywide wants to create a benefit that every client's employee may use. We ensure this by asking the management to help.
We will explain our benefits to decision-makers and then ask them to choose what services they want. Those selections are included in the financial wellness plan. Countrywide will provide member services and a streamlined administration. The result is a benefit that helps everyone.
Debt can be a weight around a person's neck, dragging that unfortunate soul down and causing great stress. But it does not have to be that way. Careful budgeting and cutting back on expenses can get anyone out of debt. The advice and guidance that Countrywide counselors offer are excellent tools for an employee to craft an environment that meets debt obligations and simultaneously saves money.
If you would like to know more about our benefits, please contact us at your convenience. We would like to provide your employees with a great benefit that helps them improve their lives