Countrywide Will Solve Them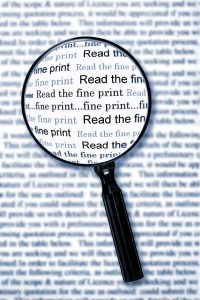 People get frustrated with warranties. Everyone thinks that this piece of paper covers all repair work done to a product. It is not always the case. The language of the warranty is going to decide what is covered by the warranty and what is not. Warranties are written in legal language, and people get confused. A group legal plan that allows for attorney assistance is essential.
The terminology can vary from one product to another. For example, a bumper to bumper warranty, which ordinarily covers a new car for up to three years, is something that a car dealer is going to offer. A powertrain warranty is an additional protection which gives repair assistance for the transmission, the engine, and other parts that will last for as much is five years. However, a factory warranty has very specific limitations. A lawyer who gives pre- paid legal services can point out that damage caused by hail might not be covered.
The Language is Confusing
People who do not understand the coverage limitations of a warranty get frustrated and suspect the car dealer is tricking them. Countrywide Pre-Paid Legal Services appreciates the confusion and frustration. Our group legal plan benefit includes help understanding the warranty.
An automobile warranty may include provisos that expressly define the coverage. This can mean a person may not use After Market parts but only those created by the manufacturer (known as OEM, or Original Equipment Manufacturer). Many people don't understand the difference, but a Countrywide attorney can point out it out. Other clauses may say three years or 30,000 miles. Once again, the Countrywide attorney lets a person know that if they travel extensively, the warranty may expire early. The ability to interpret the language is a pre-–paid legal services benefit the Countrywide attorney will provide. The result of all of this is a warranty that is easier to understand. A person can then decide whether to purchase it.
Countrywide Provides Additional Service
We recommend people always read a warranty before they purchase it. Nevertheless, folks will buy warranties expecting to get certain kind of services. It is possible that the car dealership is not going to honor the warranty. The Countrywide pre-paid legal services include help with consumer protection. Our attorneys are there to help a person process a consumer complaint.
The ability to have an attorney provide service is a substantial benefit. Too often happens that a car dealership will ignore the complaint of the customer. Countrywide allows lawyers to write letters and make telephone calls on behalf of plan members. These pre-paid legal services can convince a car dealership to see reason and honor the warranty.
Clients Select the Options
Organizations want to give their employees the very best benefits. Decision-makers are concerned that the benefit plan will be a standardized take it or leave it package. Countrywide has provided pre-paid legal services for 30 years. We believe firmly in selection and choice. A client may look at all our options and decide which ones ought to be part of the plan. We will do what the client wishes. Excellent service and quick administration will always be part of a Countrywide group legal plan, in addition to empathy and respect shown everyone.
Warranties are available for other products besides automobiles. It does not matter what the warranty will cover, Countrywide will provide service necessary to make it easier to understand. Our lawyers have expert experience in several areas. We invite decision-makers to look at the Countrywide group legal plan benefit and see all the possibilities. We firmly believe there is more than one option that can be of value to employees. We would appreciate being able to explain in greater detail what we can provide.