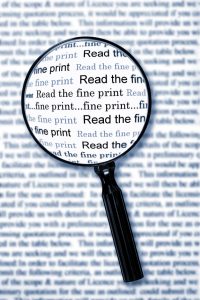 Legal document review sounds extremely complicated. A person might think that the review is done on large contracts or agreements with many players involving all kinds of situations. That is not always the case. There are many documents that ordinary people use that should be reviewed by an attorney. The content of some of these papers may have a binding effect on an individual.
Some Papers Need to Be Looked at Carefully
One obvious document requiring inspection is a rental lease. Those who are going to be moving into a new apartment should have the papers checked to ensure that the language of the lease is valid and clarify the obligations a tenant agrees to follow. Warranties should be looked at so that a person knows what parts are covered in the event of an appliance breaking down. An attorney must look at other documents. These include:
Medical Powers of Attorney
Financial Power of Attorney
Living Will
Guardianship Documents
Last Will and Testament.
Group legal plans should have a legal document review service, but not all offer this. Countrywide Pre-Paid Legal Services is different. We include legal document review as a service that can be part of an organization's group legal plan.
Working with the Best
We believe it is essential that an individual deal directly with an attorney when it comes to a group legal plan. Countrywide has a nationwide network of attorneys who provide pre-paid legal services that address everyday situations. In addition, we have an experienced attorney practicing in the community of every Countrywide client. The attorneys give our plan members a top priority and arranging for a meeting that follows safety protocols is relatively simple.
A Countrywide attorney will review documents that are up to six pages long. That is sufficient for most people. A Countrywide legal expert quickly dissects items such as promissory notes and affidavits. Then, the attorney will advise a group legal plan member on obligations and consequences inherent in the document. It is always a good idea to have the paper reviewed before it is signed, and review helps a person decide whether to enter into an agreement. Countrywide has helped plan members clarify arrangements and request additional protections be included. Our attorneys are there to offer the best assistance.
Collaborating with a Client
Incidentally, Countrywide does offer pre-paid legal services such as medical powers of attorney and living wills. A client can include these and other benefits in an organization's group legal plan document. We follow a process that provides considerable input from an organization's decision-makers.
Countrywide will sit down with a prospective client and go over all the services Countrywide can provide. We will explain things carefully and point out each service's benefit for employees. We do not try to promote one benefit over another but work to create a plan to meet the entire workforce's needs. The organization's management has the final say on what benefits will be in the final document. Countrywide will provide the administration and the member services for the plan. We make a point of staying in close contact with all our clients and developing a working rapport.
We live in a very legalistic society where pieces of paper can dominate a person's life. Therefore, it only makes sense that important legal documents be reviewed before they are signed. A document review is a service that prevents a lot of headaches and heartaches from happening. It is one of the services we offer that employees greatly appreciate.
If you are interested in what we can do for your employees, please feel free to contact us at your convenience. We would welcome the opportunity to explain how Countrywide pre-paid legal services benefits make a positive difference and give valuable help to your industrious staff.