Dealing with Agencies More Efficiently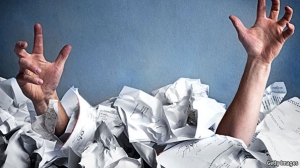 Paper appears to define bureaucracy. There is so much for all types of activities and privileges. A person needs a license for fishing but also for various other things such as a driver's license or a hunting license. You may need a building permit to put an addition onto your house or to build a new home, and they're all kinds of applications for various things a person wants to do. All the paperwork can be both confusing and frustrating. Government clerks adhere to certain regulations. Anyone who misses a deadline or provides the wrong data can expect to go back to square one. Countrywide Pre-Paid Legal Services wants to end the anxiety about dealing with government paperwork. Our group legal plan benefit includes assistance in dealing with government agencies at all levels.
Dealing with All the Papers
People require having forms explained to them, and the Countrywide nationwide network of attorneys is there to help. Our seasoned legal professionals will sit down with a plan member and, as part of pre-paid legal services, explain what the government agency wants to have. He or she will also point out various deadlines and explain the importance of them. This person will also tell where to get additional information so that the application is airtight. If a face-to-face meeting with a government official is necessary, the lawyer will let a plan member know what to expect and how to handle the situation. These kinds of tidbits of advice make for a less stressful meeting with that bureaucrat.
If a person has additional questions after the meeting, it is not a problem. The Countrywide group legal plan will allow for an unlimited number of telephone calls on a given subject. It increases the clarity for a plan member. Dealings with government are ordinarily very routine, but things get complicated now and then. Countrywide allows communication with government agencies by the Countrywide lawyer. Telephone calls can be made to the appropriate agencies and correspondence on letterhead stationery as well. Such convenience removes roadblocks to the process and makes getting the desired permission much easier.
The Choice Matters
Forward thinking organizations want to provide the very best benefits for employees. The decision-makers do not like the idea of boilerplate take it or leave it plans. Choice matters. Countrywide has a number of group legal plan benefit options, but we know they all do not fit specific organization needs. We allow our clients to select what options they want. Drafting a will or consumer protection advice may be important while medical powers of attorney might not be. Whatever the client wants will be in the plan document. Countrywide backs up the options with superior service and flexible administration. Any plan member needing pre-paid legal services will receive the support as soon as possible. Our network enables us to have an attorney close by for a plan member to use.
A Personal Touch
People do not like working with government agencies because they think bureaucracies are inefficient. That really isn't the case but too often folks forget different pieces of information that the agency needs to process a request. Forgetting to provide the right data is often at the core of the problems. Countrywide works to end such problems. One of the benefits we provide above and beyond the pre-paid legal services is respect and courtesy. Our lawyers are selected for their expertise but also their human skills. No one is made to feel like a fool in the presence of a countrywide attorney. Everyone gets sympathetic treatment.
We make it easier to deal with government agencies, and that is just one of the Countrywide group legal plan benefits. Everything we offer is intended to help people deal with modern problems successfully. We welcome the opportunity to explain all our benefits decision-makers, showing them how what we offer provides real assistance. We encourage human resources directors and other executives of an organization to contact us and find out more.