It Can Be Managed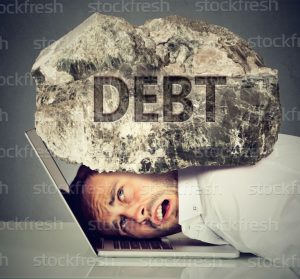 March comes in like a lion and out like a lamb. You could almost say the same thing for credit card bills, but many times they only come in like a lion. Whether they go out gently depends on the balances a person already has. It could be a problem for financial wellness. The card companies are very firm about the due dates on balances. The individual must provide the minimum by a specified date at least or face penalties. These can impact on a person's credit rating, and anyone looking for a car or house might suffer. Credit card debt can get out of hand if there are several cards whose payments are due within a day or so of each other. The cardholder can think all the bills are paid when only one has been. A sense of order must be created. Countrywide Pre-Paid Legal Services is here to bring sanity to financial difficulty.
Counselors are There to Help
There needs to be a little bit of structure to handling credit card payments. Countrywide has a nationwide network of certified counselors who can help. They are experts in aiding those up to their necks in credit card obligations. Sitting down with a financial wellness plan member, the counselor will go over a budget analysis to determine both expenses and income. He or she will suggest various means of paying off debt. It could mean minimum payments on some credit cards and increasing payments to others. There also may be an opportunity to do consolidation or work with the creditors for more reasonable interest rates.
More realistic payment plans can also be determined. The counselor will offer some ideas to make timely payments easier to do. This can include electronic payments and other means of getting the money to the credit card companies as soon as possible.
Employers Will Be Appreciated More by Staff
People view credit card debt as a problem and employers look at it as a distraction that affects productivity. Someone who is worried about their debt will not concentrate entirely on projects at hand. Moreover, the anxiety can cause people to be overstressed and vulnerable to sickness. The Countrywide benefit brings peace and quiet to credit card chaos. Employees feel more secure and are not obsessing overpayment. Allowing financial wellness plans that include help with credit card debt are appreciated and provide an excellent form of assistance. But, it does not mean that help with credit card debt must be in the final plan document.
Countrywide is committed to working with clients to create the best possible benefit. We know that employers have a better idea of what their employees need. Consequently, we allow organizations to choose what financial wellness benefit options will be part of the plan. It permits these executives to shape a benefit that is in line with demographics. Countrywide backs up any final selection with excellent service and quick administration. Employees receive the help they need as soon as possible.
They get this assistance without any lectures or sermons. Countrywide financial wellness counselors understand the embarrassment and frustration and do not add to it. The counselor has the responsibility of finding a solution to a problem. It is precisely what this financial expert will do. It might be a case where a debt management plan might be necessary. It does cost a little bit more but in some cases it is the best thing to have.
Credit card debt can be tamed and managed. Anyone who receives the right type of advice and guidance will discover that the path to financial wellness has become evident. Countrywide has the tools required to clear the road. If you have any questions about our benefits, please do feel free to contact us. We would appreciate the chance to talk to you.