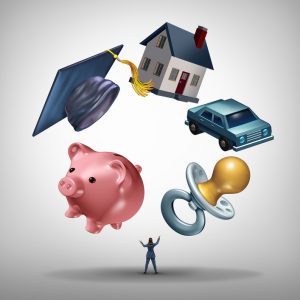 There are many anxious moments in money management. People understand the importance of being responsible, but unexpected emergencies happen. These hit a person's budget like a tidal wave and create stress.
The challenge is not knowing what to do. Adults can manage ordinary expenses, but medical treatment is expensive, and credit card balances get out of control. Managing cash is difficult when you do not know what to do.
Financial wellness depends on knowledge. The more one knows about ordinary expenses, the better the issues are handled. It is not easy to get usable information, however. Podcasts and magazine articles provide general information. That is great, but a person could use tips that address an individual problem. Countrywide pre-paid legal services can help. We have a financial wellness plan to address an individual's unique needs.
Knowledge-Based on Experience
Our benefit uses a national network of certified counselors. We have a counselor in the community of every Countrywide client. One-on-one information sharing is our primary means of service delivery.
A Countrywide counselor works directly with a financial wellness plan member. Our professional will do a budget analysis and respond to the plan members' needs. It is a combination of suggestions and education. A counselor can point out some ideas that can help a person better control their finances and, at the same time, instruct them on how to be a more efficient money manager.
The counseling sessions can cover a multitude of topics. These include:
grocery shopping tips
foreclosure prevention
dealing with collection agencies
reverse mortgages
understanding credit reports
dealing with collection agencies
refinancing.
The intent is to inform financial wellness plan members about topics that can help someone who wants to manage money wisely.
Special Programs
We know plan members are facing extraordinary difficulties. Countrywide does not judge the board but instead helps a person solve problems. There are some special programs we provide
Bankruptcy counseling and education
People who are facing bankruptcy can look to Countrywide for assistance. We will provide the credit counseling necessary before filing for bankruptcy. We also have a debtor education course that fulfills the financial education requirement required by bankruptcy law.
Debt management plan
It costs a little bit more, but our debt management plan may convince creditors to lower payments, waive fees, lower interest, and possibly consolidate the debt into an affordable repayment plan. This service costs a little bit more, but it is worth every penny.
Housing Education
We have a self-study course, Make Your Move, which orients a prospective homebuyer to the world of real estate and how to qualify for loans and how much. A significant part of the course provides insights on how to avoid predatory lending practices.
We Seek the Help of Clients
Countrywide has various financial wellness options that can be part of the employee benefit plan. However, we want to be sure that the Countrywide program meets the needs of all the employees. The only way to do that is to seek input from the management.
We will explain our options to the employer and welcome all questions. The decision-makers are then allowed to select the benefits they want to have in their plan. Those choices will be in the final plan document.
Countrywide will provide superior member services and a streamlined administration for the benefit.
Knowledge is power! An individual is in greater control of personal finances and understands how to do it. Our financial wellness counselors are excellent instructors with the type of empathy needed to address sensitive topics. We have a complete package of services to offer.
If you would like to know more about us, please contact us at your convenience. We have the services your employees need to handle their money correctly and budget more constructively.