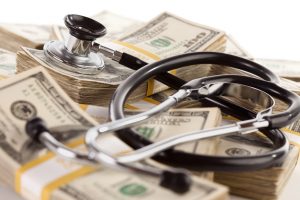 Employers have been wonderful in helping their employees during this time of national crisis. Many organizations decided to pay the full premium on the group health insurance, giving their hard-working staff some relief from financial obligations. It is great to see employers who genuinely care about their employees.
These are not easy times for anyone. Medical conditions may be causing considerable strain on a person's budget. Deductibles and copayments on major medical treatments can cost thousands of dollars. The expense can drive a person's anxiety through the ceiling.
An employer can provide some outstanding help for anyone who is facing sizeable medical debt. Countrywide Pre-Paid Legal Services has a financial wellness plan that includes an option that assists people who are having trouble with their medical bills.
Helping with Medical Debt
Attention is being focused on the coronavirus, but cardiovascular problems and degenerative diseases can result in significant medical bills. Sometimes a person panics and tries to pay off the entire amount, leading to major financial wellness problems.
Countrywide has a nationwide network of certified counselors who deal with every day financial issues. The counselors are aware of how stressful medical bills can be and they provide the expertise necessary to end all confusion.
Budget Analysis Reveals the Cash
Some employees have little idea about budgeting. They lived from paycheck to paycheck and are not mindful of the bills. The Countrywide counselor will do a budget analysis to determine cash flow. This professional will identify areas where a little adjustment can release cash for medical bills. The counselor can also suggest a few changes, such as electronic payments, that will make paying the bills a lot easier.
Many people do not know it, but medical providers are flexible. The healthcare industry is more concerned with getting the bills paid and the hospitals and treatment centers are willing to work with a patient. 
Countrywide counselors can give some ideas on how to negotiate affordable monthly payments. This helps preserve financial wellness and meets the debt obligations at the same time. The counselor can also make suggestions on how to keep medical bills under control, such as not seeking treatment outside of a provider network.
The Employer Has Significant Input
Our benefit covers other areas, including paying off college debt. Countrywide wants to provide as much service to as many employees as possible, but we need some help doing that. We ask the employers to tell us what financial wellness benefits will be in the overall plan. We explain our options carefully, but we will not market one benefit over another. Whatever the employer wants in their unique benefit will be provided. 
Countrywide's administrative process is deliberately streamlined to get service to a financial wellness plan member quickly and efficiently. No one must wait an unreasonable amount of time for assistance.
Emotional Intelligence Plays a Role
Folks get nervous about finances. They do not want to appear like spendthrift idiots who do not understand money. No one wants to look foolish and Countrywide will not make anybody feel stupid. We recruit counselors based on financial expertise and emotional intelligence. They must have the empathy to calm a person down and help resolve a problem. We promise that our counselor will not preach a sermon but end an issue instead. Our attention to the human side of our plan members is a cornerstone of our member services.
Considerate employers care deeply about the welfare of our work. It is more than just keeping them productive but also letting them know that their needs are being addressed. Medical debt is a significant worry, and an employer can ease the headaches by offering a financial wellness plan that employees can use. That is precisely what Countrywide has to offer.
Please feel free to contact us at your convenience if you are interested in our benefits. Countrywide will gladly answer all questions and explain each benefit. We believe that we can provide an excellent financial benefit for your employees.