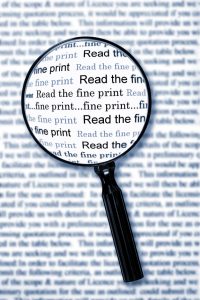 Newly minted college graduates are enthusiastic. They are now part of the real world and are drawing paychecks. Many have new jobs that they always dreamed about. They are feeling mature and responsible, but they are also learning a firm lesson about life. The real-world treats them like adults, whether they like it or not.
Reality Comes Wrapped in Paper
These young workers learn the hard way about the danger of fine print. They signed agreements and leases without understanding the content. An apartment lease might have invalid language or a warranty that specifies coverage for certain parts only. Other documents stipulate that disputes can be settled solely by arbitration, denying the person the right to file a lawsuit.
Dealing with legal documents can be frustrating and confusing. Countrywide Pre-Paid Legal Services wants to provide meaningful help to young employees. Unlike some other group legal plans, Countrywide offers legal document review to plan members.
Document Review Avoids Problems
Countrywide lawyers are located nationally to assist legal plan members. These professionals bring a wealth of experience to the time and will share it as a pre-paid legal services benefit. We will review up to six pages of material. That is the standard size of most legal papers ordinary people consider.
Countrywide lawyers look for various problems when reviewing documents. Unacceptable conditions might be buried in the clauses; we will uncover them. Rental leases that are out of date or out-of-state are red-flagged and brought to the group legal plan member's attention. Warranty issues will be explained, and an individual is encouraged to ask questions of the attorney.
Our secondary group legal plan services add value. An individual can make unlimited calls to the Countrywide attorney in a given situation. Countrywide also allows a lawyer to write letters on legal stationery or make telephone calls on a plan member's behalf. Many young employees avoid embarrassing mistakes thanks to a Countrywide lawyer's help.
We Respect the Plan Members
Young employees are not stupid. The problem they face is they don't know about legalese. The language can be very complicated and hard to understand. Our attorneys explain the words, but they will not make anyone feel uneducated. Countrywide wants lawyers to show empathy and a high degree of communication skills. We recruit based on legal knowledge and emotional intelligence. If we think a lawyer cannot work well with people, we will not ask them to be part of our network.
The Client Is Directly Involved
Countrywide has pre-paid legal services that most people will want to use at one time or another. We are not sure the demographics of our clients and we do not wish to provide a benefit that few people will use.
Consequently, we ask the employers to select those options which they wish to have as part of their group legal plan. We will explain every one of the options in detail and whatever the client wants in the final document, is what will be there. We back up all our services with an administration that is streamlined to be effective and quick. Countrywide group legal plan members get priority treatment from the attorneys. We take great pride in knowing that our plan members do not have to wait long to get the help they need.
Young employees are from a generation that has the high-tech skills needed for productivity in a competitive market. Good management wants to make sure these workers are not distracted by outside difficulties. The Countrywide benefit removes a lot of stress and anxiety, allowing such tech-savvy employees to concentrate on projects. An organization benefits by having our benefit.
If you have any questions about Countrywide and our pre-paid legal services we provide, please feel free to contact us at your convenience. We look forward to hearing from you and answering all your questions.