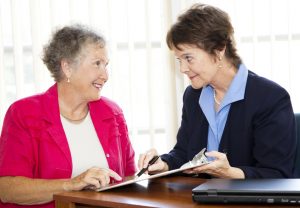 Countrywide is justifiably proud of its pre-paid legal services. Options such as drafting a simple will or help with warranties are what employees want. Nevertheless, excellent service is a mandatory feature of good group legal plans. Countrywide Pre-Paid Legal Services has some of the best plans in the industry.
Personal Meeting Are Possible
Some legal services, such as drafting medical powers of attorney, are personal. A group legal plan must have more than an FAQ page on the website. Personal meetings are necessary. The Countrywide national network makes it easy to arrange for a face-to-face meeting with a local attorney. A plan member can discuss issues with an experienced attorney in a meeting set up at a mutually convenient time.
Advice is great, but going the extra mile is even better. A good lawyer is a good negotiator. That professional can make the other side see reason. This ability enables an attorney to end many disputes without a day in court. Countrywide provides ways in which a lawyer can go beyond offering only counsel. We permit the lawyer to write letters on behalf of the group legal plan member. This can help when dealing with public agencies, composing a will, or any pre-paid legal services benefit needing written evidence.
Warranty disputes might not need written correspondence. A telephone call can work wonders in solving the problem. The Countrywide attorney may call the other party on behalf of the plan member. Such communications often lead to a speedy resolution.
We Seek Lawyers with Empathy
The quality of our pre-paid legal services benefits depends on lawyers with high emotional intelligence. We select only those attorneys with excellent people skills. Plan members must feel comfortable in any meeting and be empowered to ask questions. A person may forget some questions and not ask them That is no problem for Countrywide and we want to be of service. A plan member may call the attorney on a given case as often as necessary. All questions are answered.
Our attorneys are very knowledgeable but there are specialized areas of law that requires unique skills. The attorneys who practice adoption or intellectual property law can command large fees. Countrywide helps make those expenses affordable.
We will refer our group legal plan members to specialized attorneys if that's what is necessary. However, the fees that are charged are going to be at a discount. It will enable plan members to get the kind of help they need.
Choice Is One of Our Services
We have over 30 years of experience providing service to all types of organizations. We know that each organization has its own workforce with distinctive demographics. We believe that a boilerplate benefit, one which has a set number of services, is not going to help. We allow our clients, therefore, to choose the options for their plan.
Permitting choice comes with a risk. It is possible employers will not select all our benefit options. In fact, it is quite probable it will happen. It is fine with us. We believe that providing the best group legal plan assistance is more important. If employers want drafting a will and consumer protection advice, but not another of our options, that is the way it will be.
Countrywide will make sure that any benefit option is properly administered, and plan members get the full benefit. We have a streamlined administration that allows us to respond promptly to a help request. Our clients have expressed a great deal of satisfaction with what we do. We are one of the best in the industry because we are sensitive to the needs of clients and their employees.
We welcome any opportunity to provide detailed information about our services and the benefits provided to hard-working employees. Please feel free to contact us and ask all the questions you like. We are ready to give answers.