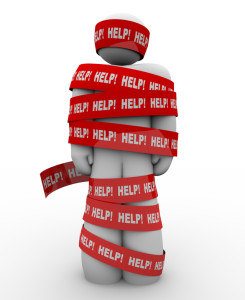 Private citizens are easily frustrated when they deal with public agencies. It appears that a simple request rarely gets a response and when people ask for help, they are turned away because of a technicality. People begin to think that government employees don't care or that the bureaucracy is intentionally incompetent. That is a misconception, but experience will make people sincerely believe public employees are lazy and stupid.
Group legal plans offer service to help with public agencies, but the quality provided might not be the best. Countrywide Pre-Paid Legal Services can help a person deal with government offices, and we are successful in getting a Countrywide Group Legal Plan member what he or she needs.
Misconceptions Cause Anxiety
Customer service is a major issue in the private sector. Companies that deal with the public are expected to provide superior service all the time and respond quickly to any inquiry. People have gotten used to this kind of attention and they don't understand why government agencies cannot do the same.
One problem stems from the rules and regulations under which a public agency must act. Depending on the service requested, there are various forms that must be filled out and evidence of a need provided. People are turned away because they have incomplete forms or have the wrong information.
Most people contact public agencies in an emergency without understanding the proper procedures. Explanations from public employees may be confusing and only increase stress. It would be great if there were a knowledgeable person to contact for advice. Countrywide Pre-Paid Legal Services gives advice on working with public agencies as a Group Legal Plan benefit.
Support for Dealing with Public Agencies
Countrywide believes that the personal touch is a cornerstone of excellent member service. We have a nationwide network of attorneys who will deliver our pre-paid legal services. Plan members have priority status and can get a personal meeting arranged without a problem.
Frustration with red tape is common and our lawyers can deal with it. They have high levels of emotional intelligence and will calm plan member down. Our attorneys routinely deal with public agencies and are familiar with the bureaucratic process. They advise a Group Legal Plan member on how to complete and file a service request. The attorney will patiently explain any need for evidence and the importance of meeting deadlines.
Other Services
Countrywide has other pre-paid legal services that help. A Plan member can make an unlimited number of calls to a Countrywide attorney on a specific matter. The attorney can also make telephone calls to a government entity and write letters on behalf of the plan member. These services help to clarify any misunderstanding. The result is a smoother path to getting the required public services a person wants.
A Client's Role
Countrywide has administered Group Legal Plan benefits since 1987 and we work with numerous organizations. We would like to have all a client's employees use our services. Because they have a better sense of what the employees need, we ask employers to choose what benefit options will be in their plan document. We will administer the benefit with administration that is streamlined for efficiency.
Reducing stress and anxiety are the primary benefits of this Countrywide service. People appreciate being able to get what they need from the government without a lot of hassles. They feel that their tax dollars are not being wasted and the government is working for them and their best interests.
If you have any questions about Countrywide pre-paid legal services benefits, please feel free to contact us at your convenience. We welcome the opportunity to give you a detailed picture of what Countrywide can do for your employees.