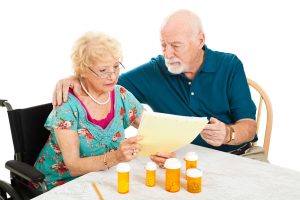 Medical costs scare people. They might be small prescriptions or extensive therapy sessions; either can cause anxiety. Anyone over 50 years knows the cost of staying healthy can be steep.
Be a Proactive Consumer
Folks often feel resigned to paying hefty sums and instinctively reach for their credit cards to pay. That attitude does not make things any easier. What a person should do is become a proactive consumer. There is nothing wrong with asking questions or inquiring about alternative solutions. Consultations with a healthcare provider should be a two-way street.
For example, instead of automatically agreeing to buy brand-name drugs, a person can ask if there is a generic alternative. Medical treatments and minor surgeries can be scheduled so the deductible is met, and the insurance plan pays a portion. Some physical therapy can be done at home and not in a healthcare facility.
A person has to know the available options to gain control over the costs. There may be government programs to help with the expenses. Knowledge is the best way to protect financial wellness.
Countrywide Pre-Paid Legal Services understands the anxiety the medical bills create. We believe good advice helps with medical bills. In addition, we have a financial wellness benefit that generates positive results.
The Best Advice Is Shared
Countrywide has a nationwide network of certified counselors who will assist with common money issues. We have a counselor in the community of every Countrywide client. Offering sound advice on medical expenses is one of our financial wellness options.
A Countrywide counselor discusses financial options with a plan member. Some of the topics discussed are ways to negotiate medical bills and how to structure reasonable payment schedules. The primary objective will be helping a plan member maintain financial wellness.
The counselor can go a step further in assisting with medical bills. A budget analysis of the plan member's finances can identify areas where the plan member can trim expenses to make extra money available. A Countrywide counselor can highlight how to get discounts on medical fees and wellness programs that might reduce premiums. Financial wellness plan members gain a better grip on how to meet the challenge of expenses with a counselor's guidance.
Our Clients Play a Significant Role
Countrywide feels that input from a client is essential in providing a practical employee benefit. We think that prospective clients know more about their employees than we do. The input of management is consequently sought.
Countrywide will develop the benefit with an employer. First, the management is shown all the benefit options, and we explain each in detail. Any questions a prospective client may have are taken seriously and answered as soon as possible. We then ask the organization to make some decisions about the benefits that will be in the plan. The choices they make are included in the final document. Countrywide will provide the administration and member services.
One of those services is courtesy and empathy. Medical bills shock the system, and a plan member sometimes gets frantic about paying. We listen carefully to what the individual has to say, and only then do we offer advice. Countrywide will listen. Suggestions that are based on an individual's situation are offered and that person is the one who determines the final course of action. We will never force our opinions on anyone.
The result is better control over medical expenses and a more optimistic approach to future costs. We are proud of our member-sensitive services, and the advice we give is the best. If you have any questions about our financial wellness plan, please feel free to contact us at your earliest convenience. Medical bills do not to be scary monsters. We can help a person take charge of them.