Outside Legal Help to Resolve Problems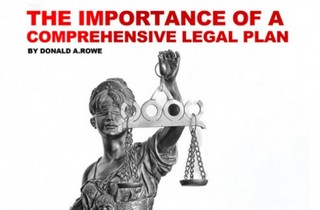 Countrywide Pre-Paid Legal Services is proud of the options that we offer in all of our group legal plan benefits. We design group legal services plans that provide a great benefit to every single plan member. Our network of attorneys is there to respond to a need and provide prompt service. There are situations that arise which are unique. Disputes that involve maritime law or perhaps mineral rights on the property are important to the individual, but involve areas of the law that are not commonly referenced.
This is not to say that our attorneys are not proficient legal experts. However, occasions do arise when a specialized case needs the expertise of an attorney whose practice is primarily in that niche of the law. This means service above the ordinary has to be available. To help in such situations, Countrywide has a referral system that can get a plan member in touch with a lawyer who has specialized legal skills.

Unique Assistance Is Provided
This is a referral service Countrywide provides when standard legal services are not going to be of help. It can happen that ordinary methods such as third-party letters or personal consultation will not remedy the problem. The attorneys that are referenced happen to be highly trained in specific areas of the law, such criminal law or complex personal injury matters. In these situations, a Countrywide group legal plan member will be allowed a 25% discount on any hourly or scheduled rates. In those cases where contingency fee is the norm, such as personal injury, there will be a 10% discount provided from the standard contingency percentages. These considerations make the use of an outside attorney more affordable.
Quality Standards Will Be Maintained
Human resources directors are justifiably concerned whenever services rendered are outside of the ordinary. It is only natural they might wonder if there will be any difference in the quality of service? Countrywide respects that concern about group legal services. We fully expect that any attorney to whom we prefer business will maintain our high standards of customer service. This means a high level of empathy for every group plan member and a sense of urgency. The attorney must treat a plan member's issue as being very important; it is never to be put on the back shelf. Countrywide also keeps a sharp eye out for the fees that are charged for group legal services rendered. We insist on having a detailed fee schedule from any attorney who does business with us. There are no hidden costs, fees, or charges allowed. That eliminates possible problems brought on by someone padding the final bill. It also means that the group plan member is not loudly complaining to human resources about what looks to be shady deals. What is received from the attorney are needed services provided at highly reasonable cost. That does take a load off a plan member with a tight family budget.
The Same Easy Administration.
Referrals are meant to be a way of addressing a unique problem. There is no change in administration because of this. The Countrywide practice of providing easy and efficient group legal services continues. As everything else, Countrywide does, there are no confusing applications or documents to be completed.
A Group Legal Plan Must Include Extraordinary Circumstances.
Let's face it; a group legal plan that does not provide for unique situations is darn near worthless. The quality is proven in unusual circumstances where a plan member gets needed service for special case. Countrywide has a reputation for being able to handle any and all crisis. We have designed legal plan benefits since 1987 and we've seen all types of emergencies. Human resources can rely on us to be a legal emergency squad for their employees. Our benefits options can be tailored into a plan that fits exactly what any organization needs.
Please feel free to contact us so that we can explain what we have to help your employees in tight legal situations