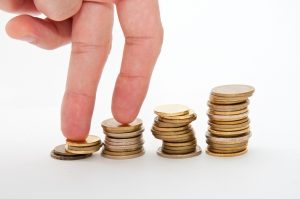 Springtime is the most beautiful time of the year because it brings many great things: birds, flowers, and tax returns. So many people need a boost, and the money from the tax return significantly improves morale. In addition, the tax return provides money that a person can use for all kinds of things.
The tax return is used as a reward. People will take a vacation or buy something they always wanted. These are not necessarily frivolous expenses. Instead, they can be thought of as rewards for being responsible. We won't criticize these tiny delights, but we do wish to point out that the tax return can be a great way to reinforce a person's financial wellness.
Tackling Debt
An intelligent financial decision can be prioritizing paying off high-interest loans, such as credit card debt or student loans. Reducing these financial burdens and increasing financial wellness leads to financial security. It also enables a person to pursue other financial goals, such as saving for a home or starting an emergency fund. In addition, using the tax refund to reduce high-interest debt obligations can have the reward of being free from those high-interest costs.
Investing in Retirement 
There will come a day when a person retires, and it's never too early to start thinking about future financial wellness. Investing in retirement funds such as IRAs can make all the difference by ensuring financial freedom and security in the golden years. It doesn't take much money, but part of the tax return can be invested in a retirement fund that will pay serious dividends later.
Setting up a Rainy Day Fund 
Everyone knows how important it is to have money set aside for emergencies. However, it can be difficult because budgets are tight, and monthly expenses must be addressed. The tax refund is an excellent opportunity to save money for emergencies. Moreover, planning big-ticket items such as home buying is more straightforward with tax return money as a base.
There are so many other things the tax return can be used for. Home improvements that will add value to the house become affordable because the tax return is a large sum of money. Charitable donations, which have tax deduction potential, are simpler to do with money from the tax return. Employees often don't have a fixed idea of how to use a tax return to promote financial wellness. A seasoned counselor's advice can help decide how to use that windfall. Countrywide Pre-Paid Legal Services knows that getting good advice goes a long way to promoting better economic stability. We have a financial wellness benefit that will enable a person to make better financial decisions about spending the tax return.
We Use Professional Services 
Countrywide has a nationwide network of certified counselors who assist people with everyday financial decisions. These experts have a wealth of advice and suggestions they are happy to share with financial wellness plan members. We have a counselor in the community of every Countrywide client, and arranging a meeting is simple.
The counselor will examine the tax return and the plan member's cash flow. Additionally, the counselor listens to what a plan member would like to do in the future and how to afford those dreams. The counselor will make some observations that are productive options. If a person wants, the counselor can help develop a plan which reduces some existing costs, freeing up money for other expenses.
There are some possibilities that a person might not be aware of. Still, the counselor knows these suggestions can improve financial wellness and allow a person to plan. Countrywide counselors provide assistance that improves a person's cash situation and boosts optimism.
We always work with our clients to provide outstanding service. Client organizations select what options will benefit them, and we provide administration and member services. We are committed to helping clients' employees have better control over personal finances and resolve what seem to be horrific problems. We do our best because our clients deserve the best.
If you want to hear more about our services, please get in touch with us at your earliest convenience. We have a benefit that your employees will appreciate, and we welcome the chance to tell you all about it.