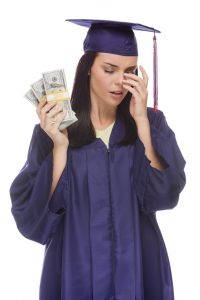 College debt is not something anyone wants to deal with, but those who have outstanding balances must face those figures. College is now a life experience that carries a cost that may take years to pay. The figures are as large as a mortgage.
Young employees and even those with five or more years of seniority are trying to deal with a situation affecting their life decisions (e.g., buying a house, starting a family, etc.). The good news is that there are ways to handle the financial situation. A plan of what to do, however, is essential. But there is the rub; many do not know what to do and how to create a realistic system for paying college debt. Therefore, they need some good advice and need it right away. Fortunately, Countrywide Pre-Paid Legal Services is here to offer assistance that resolves a rough situation.
Plan Strategies
Countrywide has a financial wellness plan that allows a plan member to get the assistance required to deal with common economic challenges that people encounter. College debt is one of those challenges. We rely on a nationwide network of certified counselors to provide the advice and support our plan members must-have.
Our counselors are familiar with the problem of college debt and will suggest various ways to address it. However, there are many ways to get out of the red.
Paying more than the minimum on large loans. Getting these out of the way lightens the load considerably.
Refinancing Through Consolidation. Debtors get into trouble by forgetting to pay one of the monthly loan bills. Consolidating all the debt into one makes it easier to remember to pay, and a plan member can negotiate a lower interest rate.
Try Autopay. Lending institutions love this. Autopay allows money to be sent from a person's bank account to the creditor on a given each month without fail. Lenders are willing to provide a 0.25% interest rate discount to encourage the use of Autopay.
Biweekly Payments. These will add extra payments each year and helps pay off sizable balances.
Better Budgeting. A better organized personal budget will release money for loan payment without affecting essentials like groceries and rent.
We admit that the strategies chosen will depend on the individual's circumstances. Countrywide counselors will do a budget analysis to help a financial wellness plan member design a workable cash flow plan.
We Make It Stress-Free
Dealing with any personal debt is no walk in the park emotionally. The plan member is overwhelmed by the figures and a little embarrassed because that person may feel unable to handle money. Countrywide counselors realize the stresses and frustrations. Their assignment is to help and not lecture. Suggestions are given to financial wellness plan members, but in the end, the members decide what to do, and Countrywide is there to help.
Clients Perform a Significant Role
The Countrywide financial wellness benefit is for every employee. We want each person to be able to use our services. College debt assistance is not a benefit everyone can use. Some employees may have medical debt issues, and others want to know how to buy a house. There are those facing bankruptcy and need immediate assistance. Countrywide does not know what an organization's workforce requires. We ask prospective clients' management for help.
Decision-makers are provided information about our financial wellness options. We explain each one and answer any questions. Then, management will decide on those benefits that will be in the plan. Countrywide furnishes the administration and the member services.
Those with college debt should not worry about paying off the loans. Countrywide will help create a plan that allows an employee to manage the balances. If you have any questions about Countrywide or its financial wellness benefits, please feel free to contact us at your convenience. We would welcome the opportunity to explain how our assistance will help your employees.