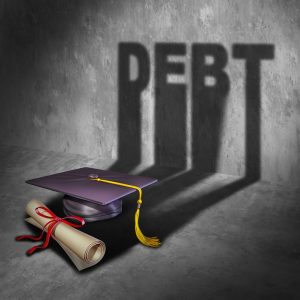 Those in school will be returning from spring break, and those who are graduating are wrapping things up. Everyone is hoping that after all those quarantines, life will return to near normal. COVID-19 caused some changes, but they were expected. The students might be back in the classrooms, and most things will return to the old days. That is terrible news for some about to graduate.
End to the Emergency
College graduates got a break from their student loans this past year. The last stimulus package probably means an end to the loan holiday. Those who have large college debts can expect to receive new interest rates and the payment schedules in a few more weeks. Those papers can be a real problem for the unprepared.
A year has gone by, and personal finances changed during the last twelve months. Those who forgot to budget for a return to debt financing might discover they do not have enough money to cover the payments; those folks took on new monthly expenses. They now face a possible hit to their financial wellness.
Employers appreciate the value of a graduate's skills and do not want those hard-working employees distracted by loan anxiety. Management wants to help but does not quite know the best assistance. Countrywide Pre-Paid Legal Services has a worthwhile suggestion. We have a financial wellness program that will enable employees to adjust their budgets.
Dealing with Professionals
Countrywide has a nationwide network of certified counselors who will provide high-quality assistance. The counselors handle common financial difficulties on a routine basis. There is a Countrywide counselor in the community of every Countrywide client and scheduling a meeting is simple.
Restoring Financial Wellness
Student loan payments starting again will strain existing budgets. The Countrywide counselor will work to reduce the pressure. A budget analysis gives this professional information required to make constructive revisions.
Employees do not need a stimulus check to pay off the student loan. Knowing what can be done to erase the burden helps. Countrywide counselors will source those programs that can reduce the interest or forgive some of the loan balance.
A financial wellness plan member might be able to close the books on the loan debt with one sizable payment. An asset inventory performed by the Countrywide counselor might uncover an old whole life insurance policy or a collectible that can furnish the necessary cash.
Working with the Client
Countrywide is not aware of the demographics of a prospective client. We also are not sure of what the client's workforce wants or needs. The organization's management does know, and we seek their help.
What we do is ask the decision-makers to look at the services we provide. Countrywide will explain all the benefits and note how the employees will appreciate having the financial wellness services available. Of course, this does not mean that we advocate for one service over another. The management can ask all the questions they want, and we answer those inquires. The client then chooses what options will be included in the financial wellness benefit. We provide member services and benefits administration.
Caring for the Plan Member
We would be remiss if we did not mention the significance of emotional intelligence. Anyone faced with sizable debts is anxious about how to deal with the money owed. Our counselors are recruited for their financial knowledge and their people skills. We insist that the counselor show patience and good listening habits when working with our client's employees.
Countrywide is proud of the positive comments we consistently receive from our clients regarding those financial professionals. The employees are treated with respect, and economic issues are handled sensitively and professionally.
If you have any questions about the Countrywide benefits, please feel free to contact us at your convenience. We want to help your employees resolve money issues and welcome the chance to be of service.