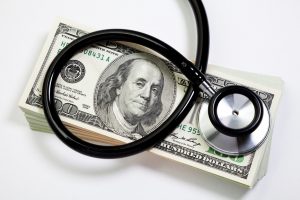 Medical costs are rising with no chance of them dropping in the future. Management is trying to slow the process of inflation with various forms of cost-containment. Medical cost cuts into profits but decision makers must be aware of how healthcare bills affect the rank-and-file. An employee's financial wellness can be at risk.
Deductibles Don't Contain Personal Cost
The standard health plan deductible is now $5000 or more. Anyone who has surgery or physical therapy may face a substantial bill for treatment. A lack of understanding can result in poor decisions on how to manage the payments. Failure to pay will cause collection agencies to call and threaten consequences.
Countrywide Pre-Paid Legal Services understands the challenge employers face with medical costs. Higher deductibles are better than cutting services and there is little chance of a reduction in deductibles. We suggest an organization consider a financial wellness plan to help employees better deal with deductible expense. We offer a plan which includes assistance with medical bills.
The Best Financial Wellness Help
The Countrywide network of certified counselors provides the help. These financial professionals are available to give the guidance and support necessary to tackle those large bills.
The counselors know all about medical billing and how to negotiate more reasonable payments. Healthcare providers are willing to be flexible as long as they are paid. Our counselors can suggest ways to negotiate a payment plan that will not damage anyone's bank account.
Bill anxiety increases whenever a person doesn't know where the money is coming from. A primary financial wellness service we provide is a budget analysis. Our counselor will look at a person's finances and suggest adjustments. These will release money to cover medical expenses. If a person wants to make a substantial payment, an asset inventory can determine if a plan member has assets (e. g. stocks, whole life insurance policies, etc.) that can be sold to make that payment.
We want to mention that our counselors do business locally. Establishing contact with a Countrywide counselor is easy and our plan member gets priority attention.
Employer Input Is Important
A financial wellness plan is the product of corporate input. Countrywide asks clients to determine what benefit options will be part of their plan. Decision-makers get to choose what services will be provided to their employees.
Countrywide has a responsibility of seeing to it those choices are implemented effectively. A high level of emotional intelligence is part of the services. The Countrywide counselor has superior people skills and treats every plan member with respect and courtesy. We insist that all questions be handled properly, and that efficient service is given to all plan members regardless of their job title.
We do not question the choices that a client will make in designing the plan. However, we suggest that assistance with medical bills helps create a more comprehensive benefit for all employees.
Employers are already seeing to it that health services are given with reasonable premiums charged. Deductibles keep the costs of the premium down but might impose a burden on the employees. Assistance with medical bills helps keep personal healthcare costs reasonable. Combined with the general wellness program, which seeks to reduce employee premiums, an employer can show the workforce that efforts are being made to keep health care affordable. Employees will appreciate this effort, and enjoy the other services of the plan, as well. It can create a situation where employee needs are respected, and morale improves because of employers' actions.
Countrywide seeks to provide solutions for common financial wellness problems. Any questions about our benefit will be answered and we would welcome the opportunity to explain the options in greater detail. Please feel free to contact us at your earliest convenience and don't hesitate to ask us your questions.