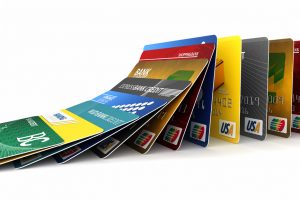 Credit cards are a major part of American commerce. People try to use credit cards as little as possible and some will try to do without credit completely. This is almost impossible. Emergencies arise that require the use of credit and retailers encourage the use of credit cards with special deals. Some of the special deals are traps that will threaten an innocent victim's financial wellness.
The Nature of the Beast
Retail stores want people to use credit cards for a very simple reason: consumers will purchase more with plastic than if they had cash in their pocket. Some of the deals include offering credit cards at zero interest rate for a specific period. Other deals involve substantially reduced credit costs. Some credit card companies attempt to persuade people to consider a consolidation loan through the credit card. That latter one is deceptive because it permits a person to put a large amount of debt onto a single credit card in return for a significantly reduced rate of interest.
This all sounds attractive, but the devil is in the details. Not everyone is willing to read the fine print of some of the offers. For example, failure to make a payment on a consolidation loan will result in a significant interest charge. Other deals require that a given amount of money must be charged on the card or the lower interest rates will not apply. People get in trouble when they don't understand the terms and conditions of a credit card. A person can end up in deeper trouble.
Countrywide Pre-Paid Legal Services understands the kind of confusion these deals cause and how financial wellness can accidentally be harmed. We know that a person needs advice from an expert to decide what deals should be accepted and which ones should be ignored. We provide help by using highly skilled financial experts.
Our Counselors Make a Financial Wellness Difference
We have a nationwide network of certified counselors who are readily available to provide advice and service. These professional people work with consumer debt and help clients find ways to make better use of their credit cards. They will help Financial Wellness Plan members avoid the pitfalls of credit card deals.
The counselors are familiar with the various credit card deal options and can give strong advice on what to do. They can suggest possible alternatives to consolidation loans or indicate which consolidation plans or offers are best suited for the plan member. Recommendations are not based on a guess. Our counselors use a budget analysis to determine for a plan member where that person's money is coming from and going to every month. This kind of information is necessary when dealing with debt.
We Offer Good Services
Countrywide provides help in several areas where people ordinarily face financial problems. Our counselors can assist in developing payment plans for medical bills, helping a new graduate deal with college loans, and educate a person on how to buy a house. Our secondary services such as budget analysis and asset inventory give a person an idea of what his or her financial wellness condition happens to be. The information a person needs to make the right decisions can come from a Countrywide counselor.
Employers Are Part of the Deal
Countrywide assistance is designed to help people deal with ordinary financial problems. We believe that our benefit options will help everyone, but we know that different organizations have different needs. Because of this, we asked decision-makers to choose what financial wellness options will be part of their Countrywide plan. We provide service and administration necessary to solve difficult situations. We also provide this service with a great deal of empathy and respect. Every plan member is treated like an adult.
If you want to learn more about our benefits, please do not hesitate to contact us at your convenience. We would welcome any opportunity to explain to you how Countrywide can help your employees and we hope that you will contact us as soon as possible.