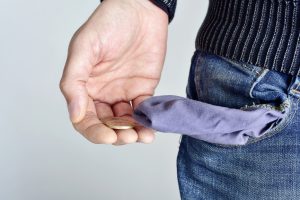 Debt is something every consumer deals with every day. We rarely carry cash and plastic cards are a preferred means of payment. Few people care about the interest rates charged and most pay the minimum required each month. Everything can go south when a major crisis arrives and threatens financial wellness.
We Help Decision Making
Planning for an emergency is hard. Medical bills can happen due to an accident. College graduates forget about the grace period and are stunned by the college loan bill when it arrives. The shock of financial obligations will lead to hasty decisions. Countrywide Pre-Paid Legal Services want to help people avoid decisions like declaring bankruptcy. Our financial wellness plan offers significant assistance.
The first step on the road back to fiscal stability is a budget analysis. A plan member must know the full picture of income and expenses. Our nationwide network of certified counselors will walk people through a budget analysis. Many are honestly surprised with what the review uncovers.
Once the complete picture is known, the counselor begins creating a sensible budget. They share suggestions with plan members on how to finance various expenses. The counselor will explore various means to reduce the overall debt load (One obvious way is to pay off the credit card with the lowest balance, paying minimal amounts on the other cards to free up cash).
Our Services Help Your Employees
Plan members can avoid using forbearance or foreclosure using the seasoned advice from Countrywide experts. Some employees are in dire straits. Ordinary service is not enough and a little extra is required. The Countrywide Debt Management Plan is there for those in desperate need.
Countrywide counselors will recommend debt management if it appears to be necessary. Ongoing counseling and customer assistance are part of the running services rendered. A formal plan will be developed to help an individual deal with creditors. While we cannot promise anything, it is possible to get interest lowered, certain fees waived, and possibly get payments lowered to affordable levels.
We understand that plan members might be a little embarrassed by a debt management plan, which does cost a little bit more. We select our counselors for their excellent people skills. They do not want anyone to feel bad about the debt problem which they may not have had control over at all. Clients know that we will not lecture any of their employees. Everyone, no matter the job title, is going to be treated with respect and consideration. That is a guarantee that Countrywide stands by in every situation.
Organizations are beginning to recognize the demand for financial wellness benefits. Millennials and new college graduates want them, and older employees discover they need them. Employers want their staff concentrating on goals and objectives; financial woes only distract. Employees are better focused on their jobs if their financial wellness is secure. Employees sincerely appreciate benefits that help with domestic concerns. They will respect an organization that provides financial wellness assistance.
Organizations Can Optimize Their Plans
Decision-makers can optimize their plan. Countrywide allows choice and employers can select options which focus on the real concerns of their employees, it means more people will use the financial wellness plan and that enhances the return on investment.
We provide world-class service to all members. Our counselors have superior communications skills and care about the members. Such attention helps make us a leader in the industry.
Debt causes anxiety and relief grows as people realize their debt is manageable. When they understand their alternatives, these folks can make decisions based on facts and not panic or overreaction. We want to help you provide the best possible benefits for your employees. Countrywide puts the client and its employees first and our existing clients will attest to that. Please contact us at your earliest convenience to find out more about what we do to serve our clients.