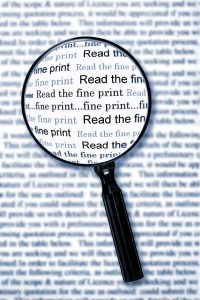 The first few months of the new year are when apartment leases might need to be renewed. Employees may think that this is just a routine matter, but, unfortunately, there is more to it. Signing a new lease is not without risks. A tenant must be careful.
Significant Clauses Might Have Changed
Several parts of a rental lease are critical:
the duration of the lease.
the amount of monthly rent and the payment method which will be used.
utilities and who is responsible for paying them.
early termination.
who is responsible for repairs?
late or unpaid rent.
damage to premises.
Any of these sections of a lease may have changed, either because of new laws or the property owner wants to modify the terms and conditions of the document. Any other conditions might affect an individual's personal finances. Therefore, it is prudent to have the lease reviewed by a professional before signing. Unfortunately, group legal plans do not always include a review of legal documents. Fortunately, Countrywide Pre-Paid Legal Services provides document review as a benefit option in its group legal plan benefit.
Experienced Attorneys Are on Call
The Countrywide nationwide network of lawyers has one in the community of every Countrywide client. These legal professionals prioritize a Countrywide group legal plan member, and they will provide the pre-paid legal services specified in the client's benefit.
The attorney will look at the lease, checking to see if there have been any revisions and be sure that the document is still legally valid (new laws ordinarily take effect in the first part of the following year.). Then, the lawyer will alert a plan member to any modifications included in the new lease and recommend what course of action should be taken. Incidentally, leases are not the only legal document our lawyers will review. If an individual wants an existing will to be examined, our attorney looks at it.
Countrywide wants the attorney and the plan member to have a productive relationship. It is easy to set up a meeting that recognizes safety protocols. Some of the pre-paid legal services we include are unlimited telephone calls to the attorney and allowing the attorney to communicate with third parties on behalf of the plan member. These extra services add value to the benefit.
Our Relationship with the Client
We are committed to a productive relationship with all our clients. This includes designing the plan itself. So that we can furnish a benefit that helps all employees, we want the prospective client to choose those pre-paid legal services that they believe are what the employees need. We gladly explain all our benefits without promoting one over another. We answer all the client's questions, and decision-makers have the right to decide those options which will be included in their own group legal plan. Countrywide does the administration and provides high-quality member services.
An Essential Service
Change happens, and leases are examples of essential documents that might have revisions effective in the first quarter of the new year. An employee would appreciate having the opportunity to have an attorney review other documents as well. A Countrywide lawyer does a complete job of document review. That same type of professionalism is extended to other benefits, such as drafting a simple will or helping with consumer protection issues.
A group legal plan is something that employees would like to have because it helps secure their personal well-being. A forward-looking employer can retain good workers with these kinds of benefits.
If you are interested in what we can provide, please feel free to contact us at your convenience. Countrywide has a benefit that will provide outstanding service to your employees and help them deal with common legal issues.