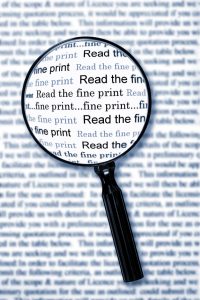 We all want to believe that we deal with honest people and the legal documents they ask us to sign are legitimate and trustworthy. But unfortunately, that is not always true. A rotten apple sometimes shows up and can have you in an awkward position with a less than honest lease.
Arbitration is the most overused procedure in the American economy. Tenants are asked to sign agreements that require disputes to be submitted to arbitration. As a result, a person signs the lease with an arbitration clause without knowing what is involved.
The tenant pays a hefty price for not understanding what was signed. The landlord, on the other hand, is safe from lawsuits. Additionally, the tenant may be reluctant to file a formal complaint because they think they are not allowed.
Good employers want to help their employees avoid such traps. Group legal plans are intended to help people with common legal issues, and document review can prevent a mistake from becoming a nightmare. Countrywide Pre-Paid Legal Services has legal document review as an option in its group legal plan benefit.
Checking the Clauses
The Countrywide national network of attorneys helps our group legal plan members. Depending on the plan, legal review of documents is one of the pre-paid legal services available.
It is always a good idea to have leases and other documents reviewed before the papers are signed. Our attorneys are familiar with rental leases and will investigate the lease to discover if there is an arbitration clause or not.
There is no reason to assume that the arbitration clause of a lease is enforceable. The court case of Jaramillo v. JH Real Estate Partners, Inc. ruled that there are situations in which the arbitration clause of a rental agreement was unenforceable. What is important also is that any language in the lease must be compliant with state law. A Countrywide attorney can easily spot any problems with that.
Working for the Plan Member
Our objective is to help a group legal plan member get out of legal difficulties if possible. Countrywide provides secondary services to help. The ability of an attorney to write letters on legal stationery and make telephone calls on behalf of the plan member is essential. In addition, the attorney can contact the landlord regarding the language in the lease. That there is an attorney involved can make the landlord hesitate before threatening a tenant with eviction.
If the plan document permits help with consumer protection, a Countrywide lawyer is ready to assist a tenant in dealing with violations of the tenant-landlord law. This would primarily involve advising on how to file a legitimate complaint. But, again, this is where a landlord might hesitate if a formal complaint is being issued.
We Look to the Client
Countrywide wants people to take advantage of all the pre-paid legal services that a plan document provides. We are not aware of the demographics of a prospective client organization, and we ask the decision-makers to help us.
We explain all our benefits to the decision-makers and answer any questions they might have. We then ask them to select which pre-paid legal services will be part of their unique plan. Those selections will be part of the final document. We provide the administration and superior member services. A client can expect their employees will be treated with empathy and respect.
Arbitration is not necessary for a rental lease. Landlords and tenants can ordinarily resolve issues without having to resort to arbitration or litigation. Our attorneys can point out problems with any rental lease that is abusive to a tenant. That is just one of the benefits of having a Countrywide group legal plan.
If you are interested in our services, please feel free to contact us at your convenience. In addition, we would welcome any opportunity to explain how we can assist your employees with everyday legal issues.