Taming the College Debt Monster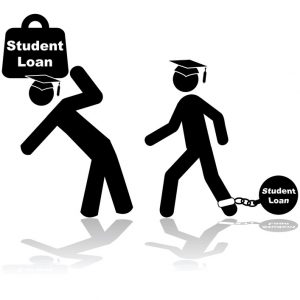 Professional Advice Manages the Cost
College debt is a national problem and will continue to be for some time. Politicians need to find a way to reform the situation but until then there are thousands of Millennials dealing with millions of dollars of owed money. Forward-thinking companies recognize the danger to the financial wellness of their Millennial employees. College debt can easily overwhelm anyone.
Where the Trouble Begins
What started the problem? Are new college graduates just irresponsible? The answer is complicated. Many young people go into college debt because they cannot afford the tuitions alone and going without a college degree can harm a career. They do not always know the terms and conditions of their loans. The amount of debt is so large for many graduates they will choose to ignore the payment until it is no longer possible. That is when an emergency strikes.
A college graduate secures a job and starts living independently. He or she takes on new financial obligations such as rent or a new car. Things seem to be going fine for at least six months because that is the term of the grace period for many debts. A person is in for a serious shock when the grace period ends, and the first bill arrives for all those college loans. It may throw a budget out of control and seriously damage financial wellness.
Poor Advice Only Makes Things Worse
What is worse is that the new employee does not know where to turn. That person will ask friends for advice, but these colleagues rarely know more about college debt. Forbearance, putting off till tomorrow to start paying the loan, only adds to the problem which may ultimately lead to declaring bankruptcy. Countrywide Pre-Paid Legal Services wants to be of assistance. We know how credit ratings are affected by an inability to pay back the college loans. We offer the kind of help that enables a person to meet the payment responsibility.
Anyone with sizable college debt needs good advice and the kind that produces positive results. Countrywide makes use of a network of certified counselors. These professionals are found nationwide and are present to assist.
The counselors are happy to sit down with any financial wellness plan member and go over options. Budget analysis is the first step. Investigating the existing income expenses can point to some possible ways of freeing up money. It might be paying less on credit card debt or doing some economizing, but money to make at least minimum payments can come available.
If there's a means by which payments are renegotiated or extended over longer periods, the counselor will know about them. It is understood that the financial wellness plan member makes the final decision. Our counselors respect the integrity of these new employees. There's no attempt to treat them like small children but rather advise them as they are adults.
Financial Wellness Is A Popular Benefit
We create a pathway out of a hot mess, and that new college graduate can decide which payment option offered is the best. It can be a tough decision but is the kind of adult reasoning these Millennials must experience.
Employers cannot ignore financial wellness. It is an employee benefit growing in popularity as increasingly more American workers expected. The challenge is to determine what should be in an organization's financial wellness plan. Countrywide will make suggestions and offer advice, but we also allow clients to choose. We do this in our group legal plans and choice is a way of assuring that the final benefit better meets the needs of the employees.
Our efficient administration and commitment to superior customer service makes a Countrywide benefit one of the best in the industry.
College debt is responsibility and a new graduate can rise to the challenge. It requires getting good advice and Countrywide provides that. The quality of our benefit options and service make us one of the best vendors to work with. We ask decision-makers to contact us and find out more about the Countrywide advantage.