Processing a Dispute can be Complicated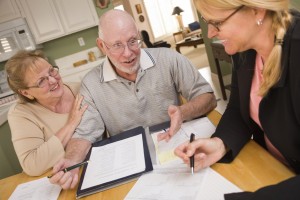 People look forward to spring as a time to clean up the property. That can be landscaping or just mowing the lawn. Some people unfortunately find a nasty surprise in their mailbox about their property. It may be a notice that their property has been reassessed and that the taxes are going up. Another nasty note may come from the lender, saying that the Federal Emergency Management Administration (FEMA) has designated the neighborhood as a high-risk flood zone. This means having to buy expensive flood insurance. The good news is that tax assessments and FEMA decisions can be disputed. Getting help from a group legal plan can make the process move a lot smoother.
It Can Get Rather Complicated
A person might feel an attorney is not necessary, but that opinion can change once the process starts. FEMA is going to require a Letter of Map Amendment in order for successful dispute. The appeals process for property taxes will include hearings and dispute forms being filled out. There also are some very strict deadlines regarding property assessment disputes, and other procedures that must be followed. Good group legal services has an attorney available to help. This individual is knowledgeable about what public agencies are looking for in any property tax disagreement. A group legal plan member is well served because the wrong information can throw everything back to square one. The attorney can point out what is important and how it can best be presented in any dispute process. This type of help is going one step beyond routine group legal plan benefits. An attorney is directly involved in providing help. That little extra attention is a primary quality of a Countrywide Pre-Paid Legal Services benefit.
Our Attorneys Are There for You
Countrywide maintains a nationwide network of attorneys. These seasoned legal veterans are there to provide active assistance when a plan member goes through dispute process with a public agency. The attorneys have worked with these organizations before and they know what needs to be in the paperwork. Mindful of any time limitations, these lawyers give high priority to any group legal plan member's situation. The attorney can offer guidance to a person about any formal hearings and what information is needed to press the case. Some of the paperwork can be bewildering, but no plan member is left adrift. Countrywide allows for an unlimited number of telephone calls on a given situation. A plan member can talk to the attorney on the telephone or face-to-face consultation. Questions are answered and additional advice is given in any of the sessions.
Quick action is necessary and Countrywide benefit administration is deliberately tailored to provide group legal services benefit with all due speed. A person who may be a little bit hesitant about going through dispute process is made to feel confident about his or her chances. It is because the Countrywide attorney has helped with the advice needed to prepare all of the forms or letters that are required. The assessor's office has set rules and regulations that need to be followed. The Countrywide attorney makes it easier for a group legal services plan member to make the right steps. While no guarantee can be made about the resolution, the help of a Countrywide lawyer can make the case for reducing property taxes a lot stronger.
Your Employees Deserve the Best
Whether it is disputing an increase in property taxes, or just having a will drafted, your employees deserve the best legal services possible. Countrywide has designed group legal services benefits for all types of organizations since 1987. We put high priority on good legal assistance and also strong people skills. Nobody is treated like a case for by our attorneys. Everyone gets the same attention and empathy. It is all part of Countrywide's commitment to providing the very best from clients. Please do feel free to contact us about our benefit options. We are certain you will be pleasantly surprised at all. We can do for every one of your employees.
Contact us today!