It Doesn't Have to be a Life Long Burden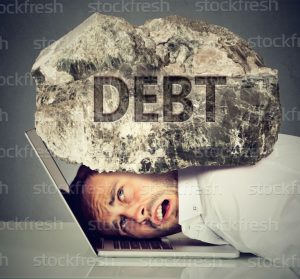 College is not always a happy experience. There are many long hours late at night and lots of stress over grades. It would be nice if that anxiety ends on graduation day but it does not. Most college graduates are saddled with student loan obligations. These are controllable for some people, but others have the financial wellness threatened.
The Figures Can Be Enormous
It is the immense size of the debt which staggers people. The amount of student loan owed can be in the six figures for some people. This can make a significant difference in a lot of economic decisions. Life expenses such as buying a house could be delayed for decades. In some cases of desperation, a college graduate may elect to default or declare bankruptcy. Either can cause a lot of financial harm. Countrywide Pre- Paid Legal Services wants to help college graduates. It is why we have a financial wellness program.
We have certified counselors who deal with problems involving student loans all the time. These professionals are there to guide a plan member to all the options possible in meeting the debt requirements. All service starts with a budget analysis. The counselor will look at an individual's income and expenses, and see if there are ways to make alterations to better pay the bill.
Organizations Will Gain
The plan member's personal situation is carefully assessed. The counselor may recommend a debt management plan, which costs a little bit more, but the overall goal is to help a person take command of the student debt. Many are pleasantly surprised at the options available that do not include forbearance and bankruptcy. The counselor will also help in completing any applications necessary to secure debt relief. These are all the benefits of having a Countrywide counselor as an advisor.
Organizations appreciate the skills and enthusiasm that recent college graduates bring to the workforce. Anxiety and stress caused by paying college loans can distract from this employee's contributions. Decision-makers want to help, and financial wellness plans are some of the best means of doing this. A young worker worried about finances receives the kind of advice to manage the repayment of student loans. It permits this individual to devote more time to organizational goals and objectives.
More Than One Possible Option
The Countrywide plan has more than one option to consider, and several might not be a good fit for a given organization. We allow a client to tailor the financial wellness plan to the needs of the employees. Employees might enjoy help with college debt but not care too much about education for house buying. There may or may not be much interest in assistance with credit card debt. Whatever the client would like to see in the financial wellness plan document, Countrywide will provide.
Those options are in addition to standard service Countrywide offers. We insist that Countrywide plan members be placed at the top of the line for any help. Our counselors are chosen for their financial acumen. They are also expected to show courtesy and respect those who are having trouble with college debt do not want a harsh lecture. They will not receive that. Instead, the best and most constructive advice possible will be theirs to receive.
College debt is a sad nightmare of modern times. There does not seem to be any end to tuition increases, and the burden of repayment can be staggering. We have worked with organizations since 1987 to provide employee benefits, and we know decision-makers want to help their employees. What Countrywide can do will lighten the load on an employee's mind, and that is always deeply appreciated. We welcome the opportunity to explain all the financial wellness options we have, knowing each one can provide great help. Decision-makers are encouraged to in touch with us as soon as they can.