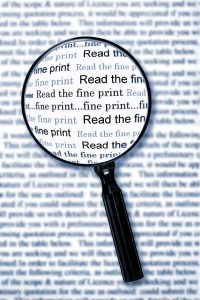 Legal documents make for tough reading. The sentence structures are intended to define what is required by law or what is expected of other parties; none of it is meant to entertain. It can be a headache trying to understand the simplest paragraphs. Not all group legal plans address this problem, but Countrywide Pre-Paid Legal Services does. One of our group legal plan options is the review of contracts and other legal documents.
Some of These Document Reviews Are Ordinary
Legal documents are not just for major occasions. Some of them are used in ordinary transactions and people don't always realize that. For example, the lease you sign for an apartment is a legal document. It has certain requirements and what the consequences are if the lease is not respected. Even though it is purchased as a product, a warranty is a legal document. A consumer must be careful when it comes to legal documents, because the terms are binding. It is always a good idea to have an attorney review one.
The Countrywide lawyers will do that as a pre-paid legal services benefit. We have a nationwide network of highly professional attorneys who will look at the legal documents a plan member wants to have reviewed. It is always a good idea to request this review prior to signing it and schedule an appointment with a Countrywide attorney. The lawyer checks the language and notes the obligation requirements for all parties involved. Experience with all types of contracts enables the Countrywide professional to point out various problems and warn of any written dangers. Continue reading